BLACK STAR and "Chasseurs de France", both committed to a sustainable Planet!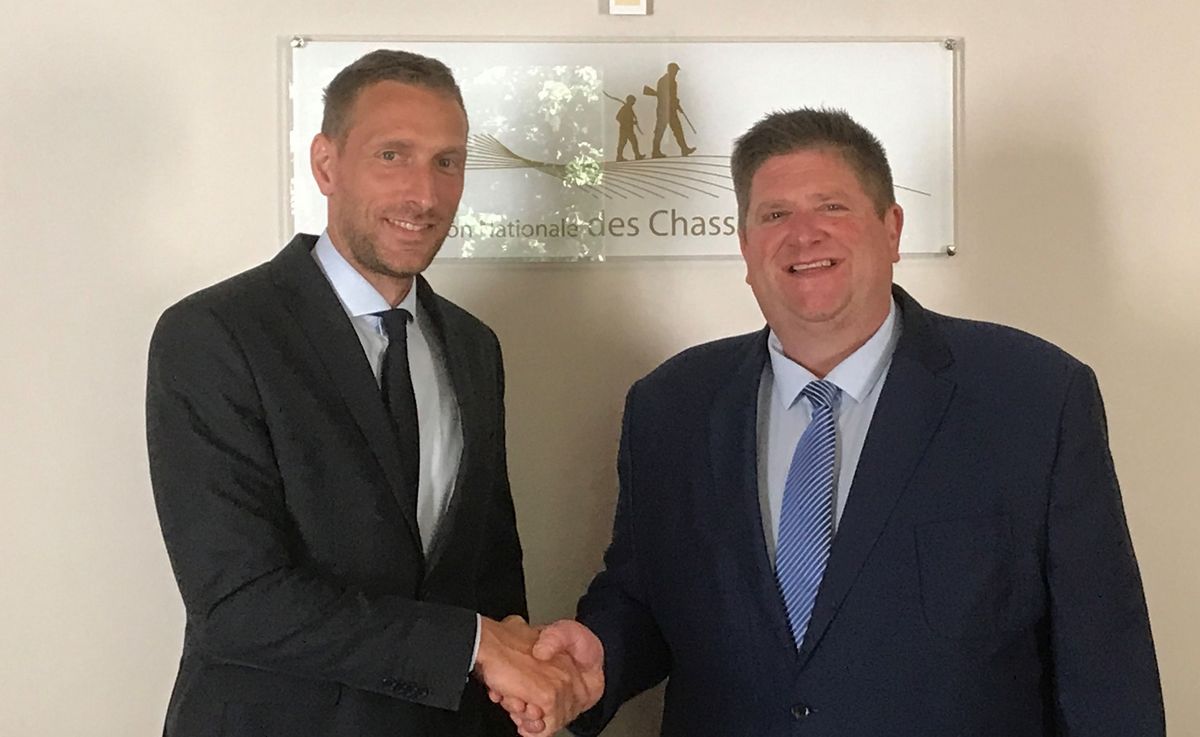 Lancement officiel de l'offre commerciale BLACK STAR réservée aux Chasseurs de France, à retrouver sur www.allopneus.com
---
On July 23rd, 2019, at the headquarter of Fédération Nationale des Chasseurs – French Hunters Federation in Issy Les Moulineaux, I was very happy to act, along with its President Willy SCHRAEN, the official launch of the BLACK STAR commercial offer, reserved to Chasseurs de France Members.
At a time when words about Hunters are too regularly sceptical, the BLACK STAR commercial offer, undoubtedly underlines the deep attachment of Hunters respect of the environment.
BLACK STAR reinvents the wheel, by manufacturing a virtuous tyre, at the heart of a circular and rather eco- friendly economy (saving 80% of raw material, 60% oil and 37 kg of CO2 emissions).
I am sincerely happy that Chasseurs de France, headed by President Willy SCHRAEN, joins the BLACK STAR community and de facto officialises an eco-friendly and political choice.
I deeply hope that other federation, companies, private and public communities, will also take similar actions for the protection of our Planet.
Driving BLACK STAR it's knowing what you are getting.
Beyond sincere common values: Protection and enhancement of our jobs, and of course the respect for the environment, BLACK STAR tyres perfectly meet the expectations of hunters (tread depth, very good performance and grip on mud, stones, tracks, snow …).
I would also like to thank ALLOPNEUS which will allow fluid and rapid distribution of our tyres to all the Chasseurs de France members.
President SCHRAEN, as per your initial request: all hunters (from the most isolated ones to those on a modest income) could benefit from this commercial offer. The distribution expertise ofALLOPNEUS , along with the special rates, will most certainly allow this to happen!
CHASSEURS DE FRANCE special rates, now available at www.allopneus.com
WHEN From August 1, 2019
WHERE: : www.allopneus.com
WHO: Chasseurs de France Members only
WHAT: Competitive prices, +270 BLACK STAR references. Contact your regional branch of Chasseurs de France to find out about the deals.
HOW:
Select your BLACK STAR tyre on the website www.allopneus.com,
Enter the discount code: Contact your regional branch of Chasseurs de France to obtain the code
Present your hunting license upon withdrawal (6,000 centres in France).
Thank you President SCHRAEN, for our genuine and authentic discussions, with strong and meaningful civic consequences for the protection of our planet!
Chasseurs de France, we hope to see you equipped with BLACK STAR soon!
Jean-Baptiste,